Welcome to Tompromo Marketing
Many companies have down-sized their departments and are doing more with less. Think of Tompromo Marketing as your own "on call" Design, Print and Products resource. Call us anytime you need help with that next marketing project. But not after 10:00pm, that's too late.
Gain the competitive edge with a DESIGN by Tompromo Marketing. Develop your corporate identity package from Logo Design, to Business Cards, Stationary, Brochure and Postcard Layouts. If you want ugly and outdated, we can't help you.
Tell your message in PRINT with Tompromo Marketing. If you need high quality business cards, letterhead, flyers, brochures, postcards, folders, labels, notepads or catalogs, look no further. We've helped businesses of all sizes with their printing needs. The quality you get will be a lot higher than the price you pay.
Increase name recognition with promotional PRODUCTS by Tompromo Marketing. Imprint your company name and/or logo on literally hundreds of thousands of different marketing products. Showcase your company pride with corporate and casual apparel. Whether you need embroidery, silk screened T-shirts or sports hats, we guarantee you'll look good – not that you don't already.
With so many things on your "To Do List", let us take care of your marketing needs.
Featured Item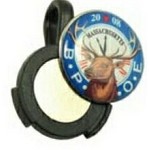 Lucky Golf Ball Marker Hat Clip (3/4&quo...
Our custom golf ball marker / magnet hat clip strongly holds a 3/4" full color domed metal golf ball marker and attaches to all golf hats, golf shirt pockets or shoelaces. Comes with our "Executive St...
$1.78 - $3.19
What Our Customers Are Saying

I have utilized Tompromo to create a number of marketing products for my business this year alone. I have been highly satisfied and my customers have provided me with excellent feedback on the quality...
Michael Shuryan
Patriot Plumbing & Co. LLC
Nov 21, 2012